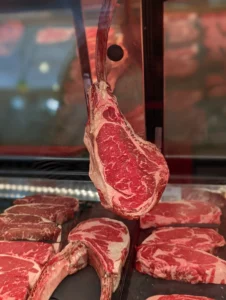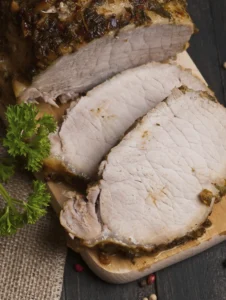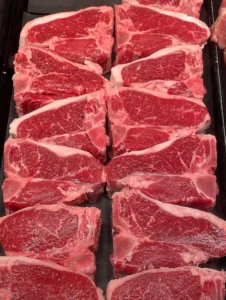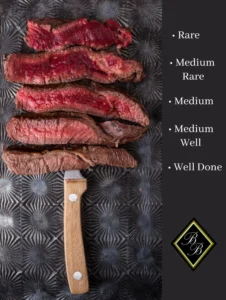 See a Variety of Meats Offered at Our Butcher Shop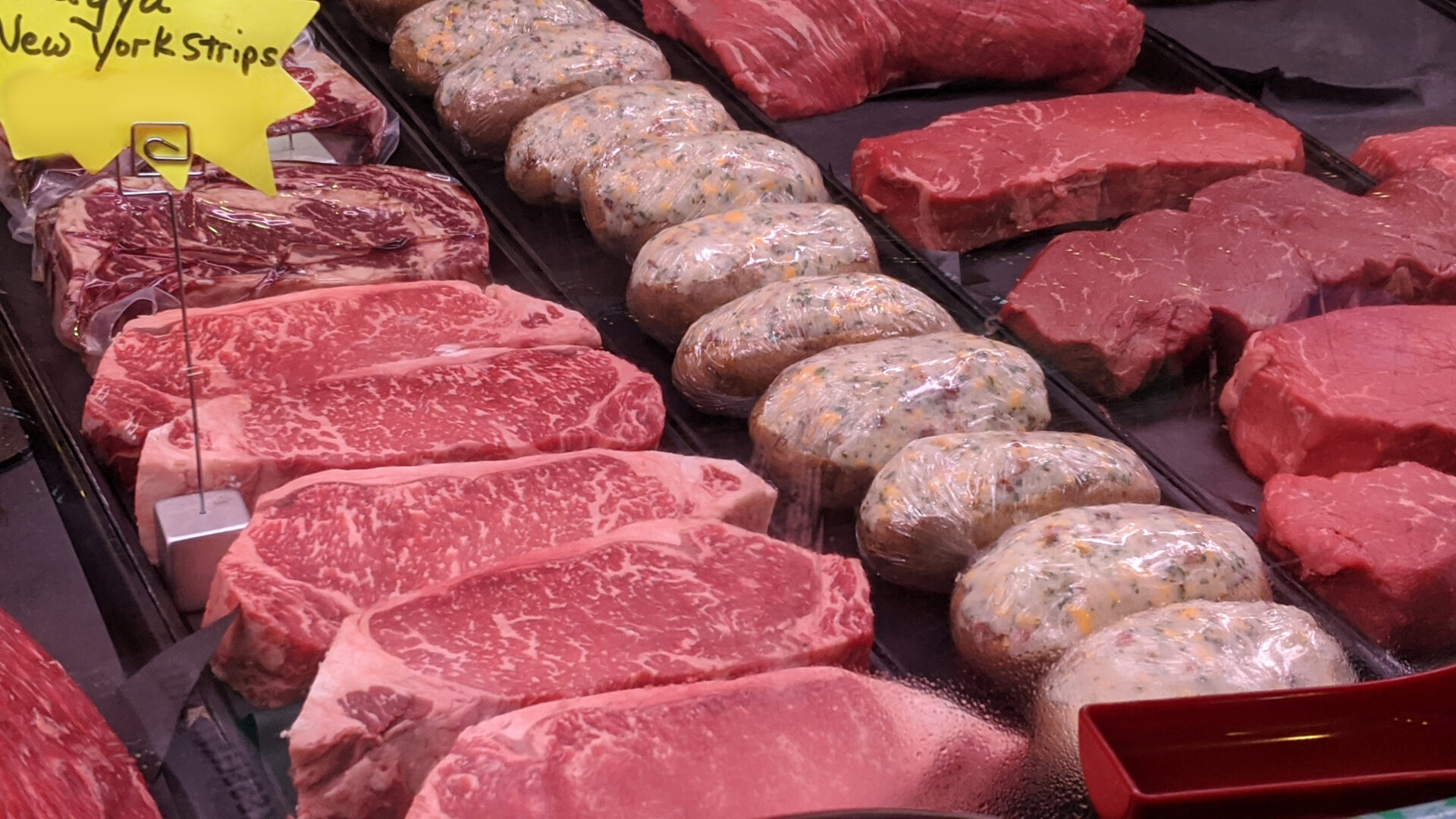 The Butcher's Block Meats:
The McGowan family has been working with the same small producers for decades.
We sell only premium meats from small farmers who follow all-natural, sustainable, ethical farming practices.
We have worked with the same farmers for a couple of decades who make their own natural feed that allows the meats to be healthier, better for you, and most importantly, better tasting.
We offer custom cuts; we recommend you call ahead to order specialized cuts. Dry-aged beef is also available upon request.
We only sell USDA Prime, which is the best grade given; it represents the highest degree of marbling for tenderness, flavor, and juiciness.
Our prime beef comes from the upper Midwest. We work with specific farmers who have been cattle farming for several generations. The farmers we work closely with follow sustainable practices, producing their own feed to guarantee your beef is the highest quality without any hormones, preservatives, or antibiotics.
We offer grain-fed beef because we feel that grass-fed beef is too lean, compared to grain-fed that provides a lot more marbling and flavor. Our ground beef is made in-house using the McGowan blend of chuck, brisket, and short ribs. We grind our beef three times for a hamburger that has the perfect texture.
Cuts Available: Filet Mignon, Beef Tenderloin, Sirloin, NY Strip, Ribeye Steaks, Ribeye Roasts, Porterhouse Steaks, Flank, Chuck Pot Roasts, Sirloin Roasts, T-Bone, Cowboy, Delmonico, Short Rib, Skirt Steak, Brisket, Ground Beef, Premade Hamburger Patties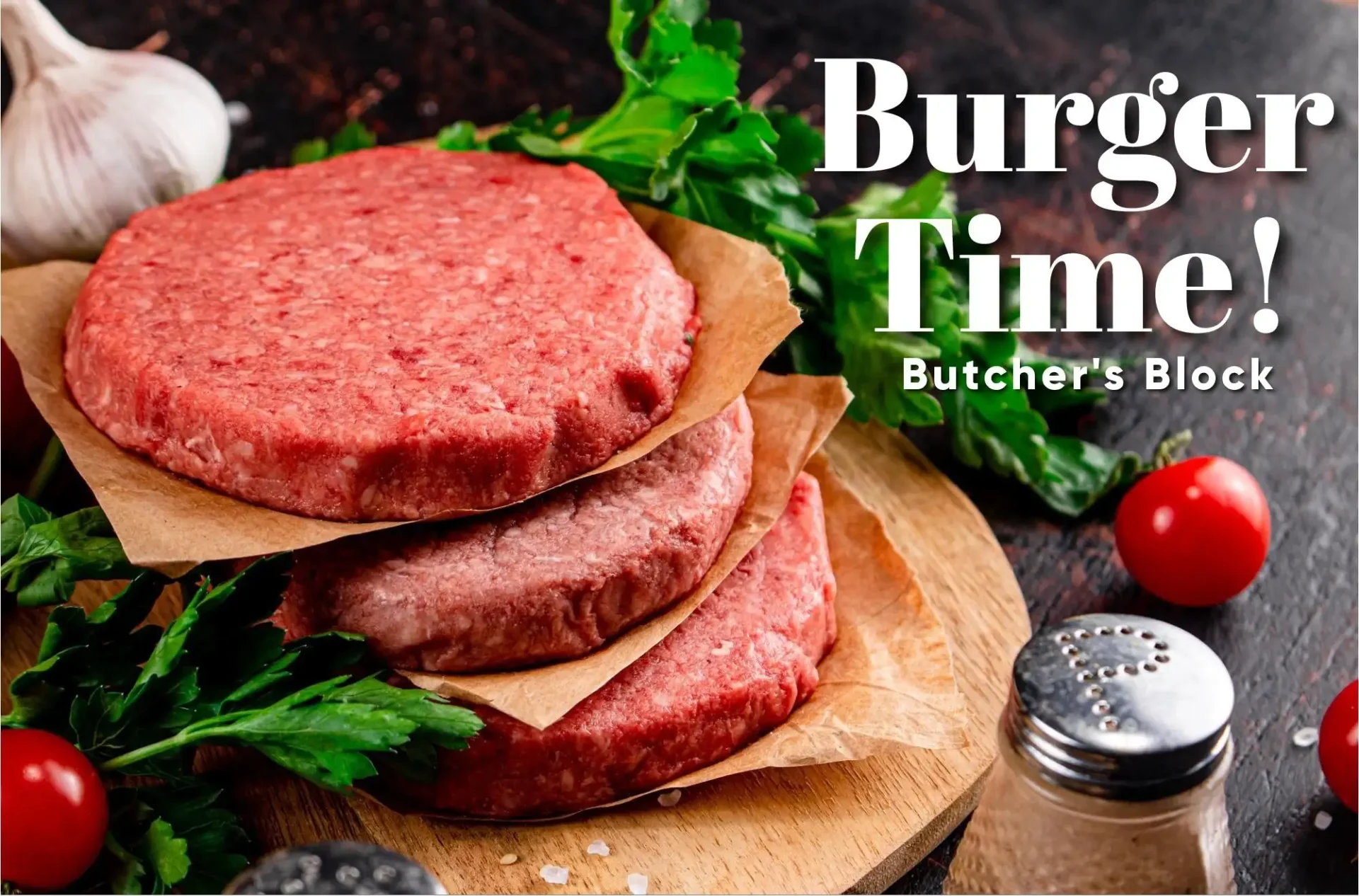 Certified Japanese A5 Wagyu
Anyone who appreciates a good steak will undoubtedly discover that Wagyu beef is one of the finest examples of the perfect steak. A5 is the highest rating because its marbling is like no other. The intense flavor is incredibly rich and so very satisfying. We also have certified domestic Wagyu as well.
Dry Aging is available at no additional cost: please allow four weeks.
Pork: Duroc Heritage Pork
Raised in the USA
Small family farmers in the US raise our Duroc pork. The farmers make their own feed to ensure the highest quality of meat free of antibiotics, growth hormones, or additives.
Duroc pork is considered prime, it is the top 2% of pork meat, and it is our preferred choice.
The Duroc heritage pig has been an American breed since the 1850s when farmers crossed a Jersey Red with a breed of New York old Duroc. This premium (prime) pork has exceptional marbling and an incredibly rich and robust flavor.
Cuts Available: Pork Chops, Center Cut Loin Chops, Pork Tenderloins, Pork Shanks, Baby Back Ribs, St. Louis Style Ribs, Porchetta, Pork Belly, Delmonico Chops, Pork Butt, and Pork Steaks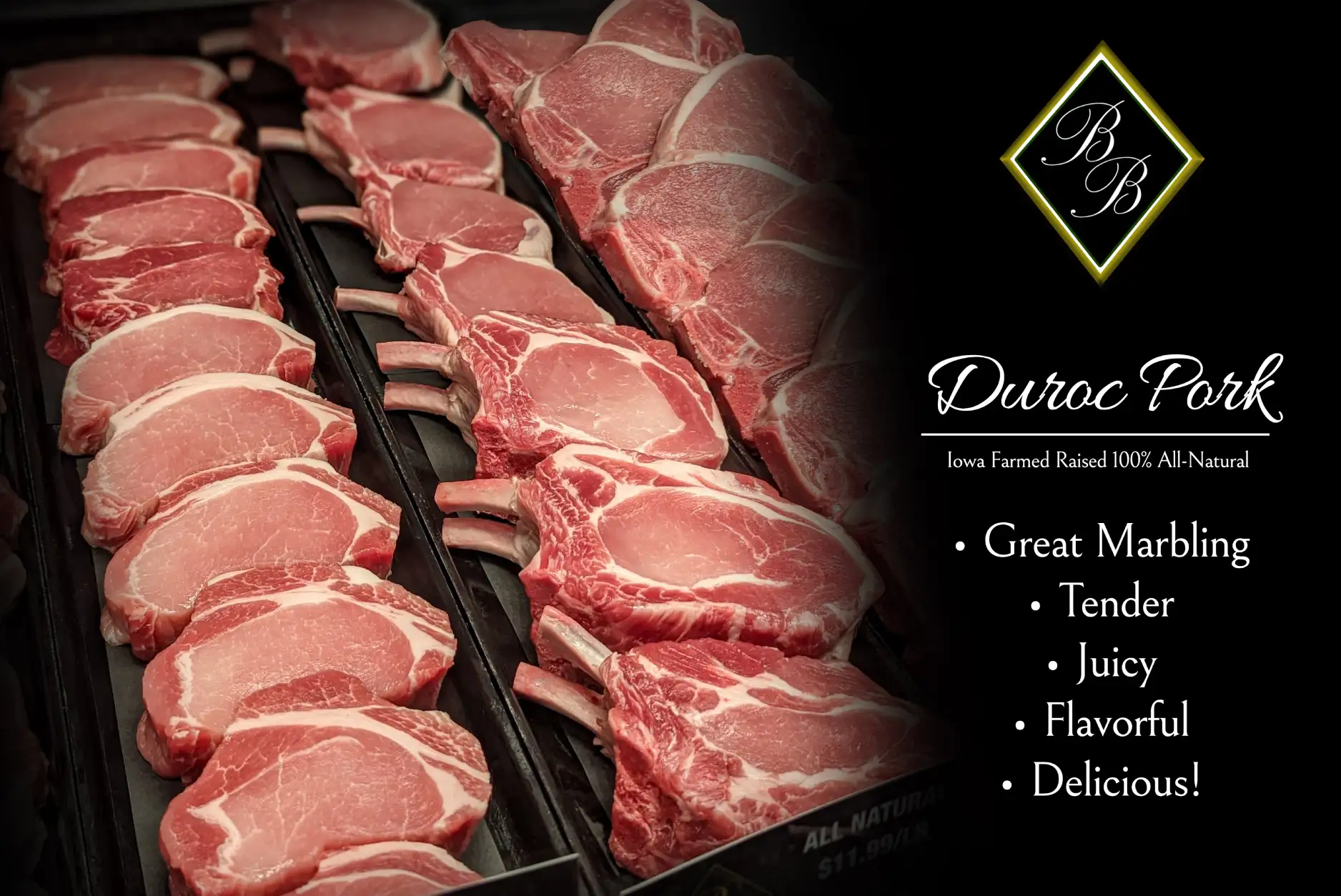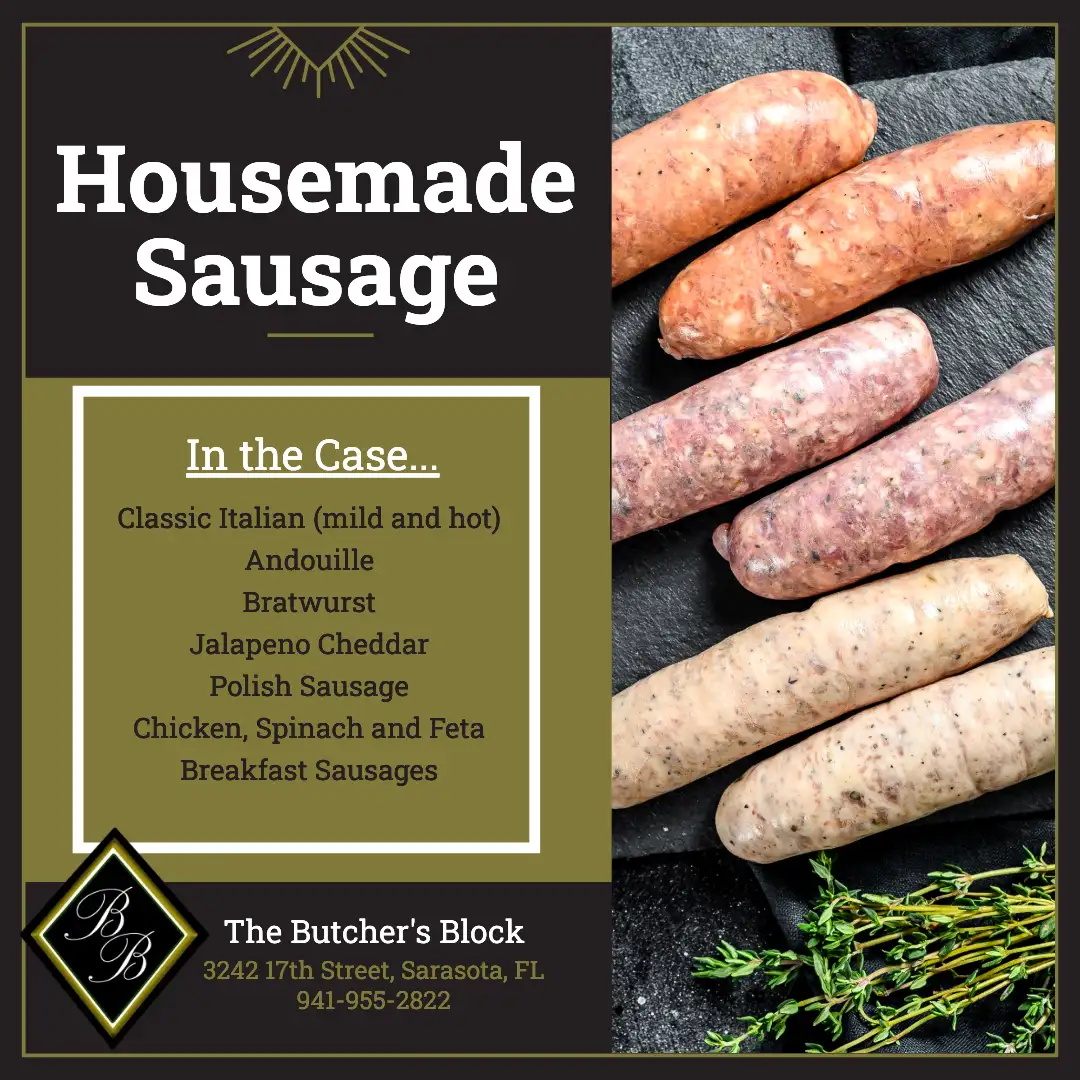 If you love sausages, The Butcher's Block is your home for delicious sausages! We start by grinding our prime cuts of pork or chicken, then we hand blend a mix of herbs and seasonings and mix until we've made delicious magic for your enjoyment!
Scott and the BB team know exactly how much spice and flavor to add that fabulous kick to our hot Italian sausage or the comforting goodness of green herbs for our breakfast meats.
Our sausages are made with pork or chicken with no added hormones, antibiotics, soy proteins, or preservatives. There's nothing artificial—simply meat, fat, and flavor. Each recipe has a specific flavor profile and a wide range of uses.
Andouille, Mild Italian, Hot Italian, Peppers & Onions, Bratwurst, Chicken, Spinach & Feta, Polish, Breakfast Sausage, and more.
North Florida
We are proud to say our Butcher's Block chickens are locally raised in Florida. We work with several farmers in northern Florida, who care for their chickens responsibly and sustainably, and more importantly, all-natural—including they make their own feed to ensure taste and quality.
It has always been important to Scott and the McGowan family to work with reputable and caring farmers… it means you enjoy the best and highest quality meats that are good for you.
Cuts available: Whole Chicken, Legs, Breasts, Wings, Thighs
Plus: Organ Meats, Chicken Necks, and Chicken Fat
We can spatchcock your whole chicken, call ahead to order special cuts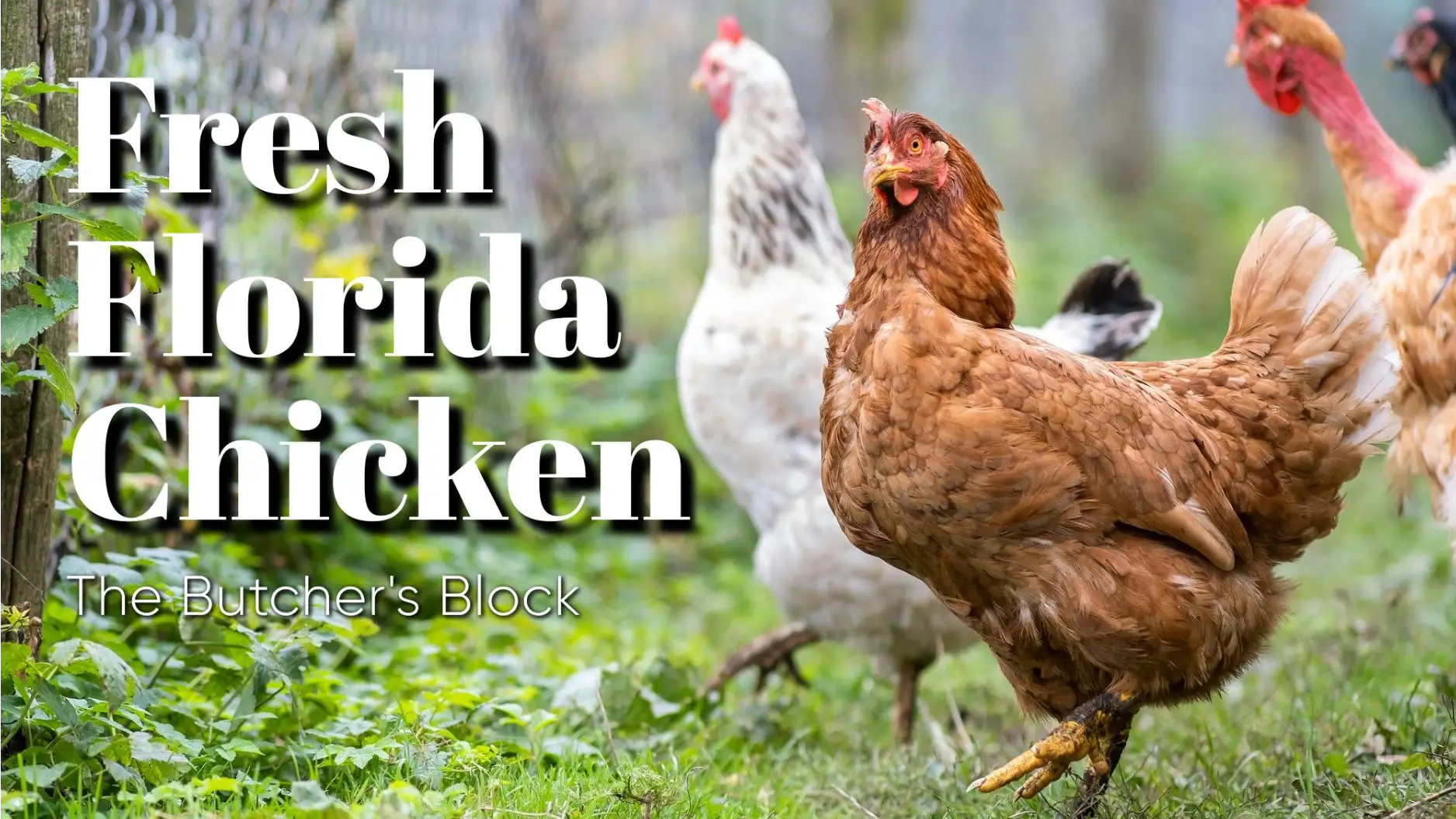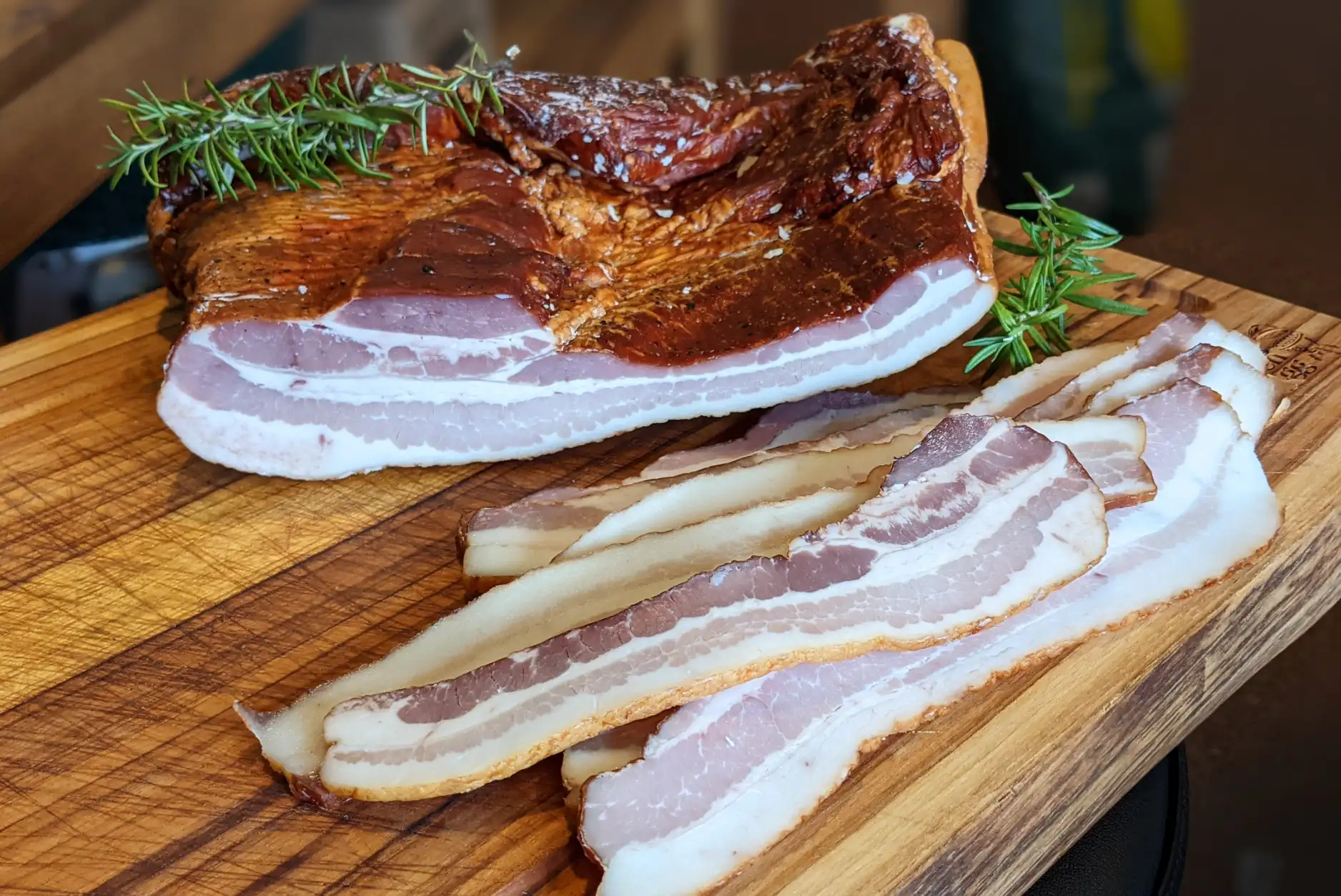 Stoltzfus Meats, Pennsylvania
Our slab bacon comes from Stoltzfus Meats in Pennsylvania. They have been selling meats since 1954, and we have worked with the family for 50 years. The bacon is made from pork belly that is slow-cured and smoked without added water or smoke flavorings. We hand-cut our slab bacon to your personal preference.
Stoltzfus meats: Slab Bacon and Canadian bacon, Hams and Ham hocks
Colorado
Our lamb is raised hormone and antibiotic-free in the foothills of the Rocky Mountains, which is a natural habitat for sheep. The best lamb comes from America, specifically Colorado, and we believe it is the highest quality meat you can get and it has the best flavor. Grain-fed American lamb tastes less gamey compared to imported lamb.
Cuts Available: Rack of Lamb, Lamb Chops, Lamb Loin, Leg of Lamb, and Leg Shanks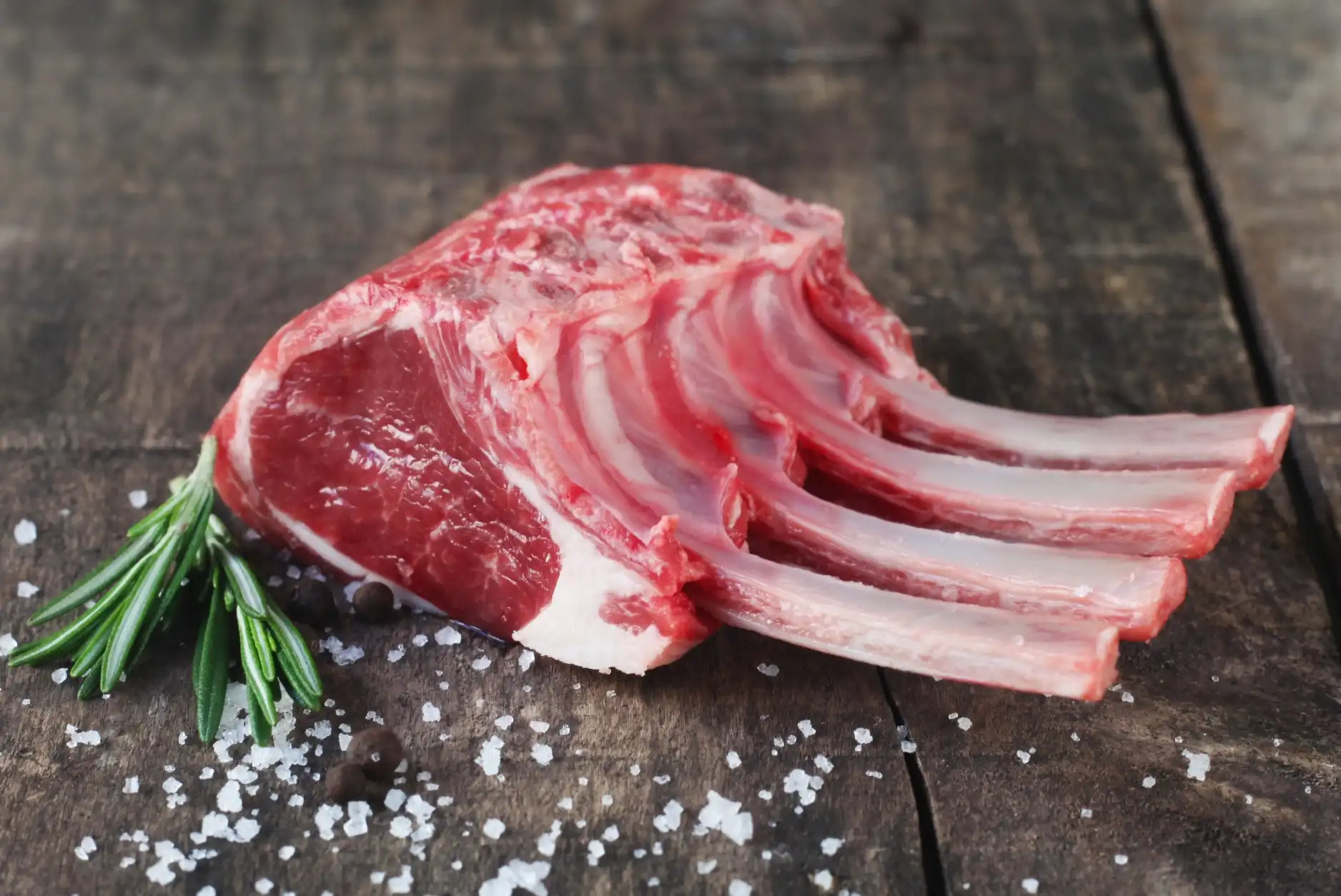 Pennsylvania
Our veal is raised on a small farm in Pennsylvania. The farmers make their own grain and milk feed and are free of hormones, steroids, or antibiotics. They are known for producing quality meat that is fork-tender and has a subtle flavor.
Cuts available: Rib Chops, Loin Chops, Top Round, Osso Buco, Sweetbreads, and Cutlets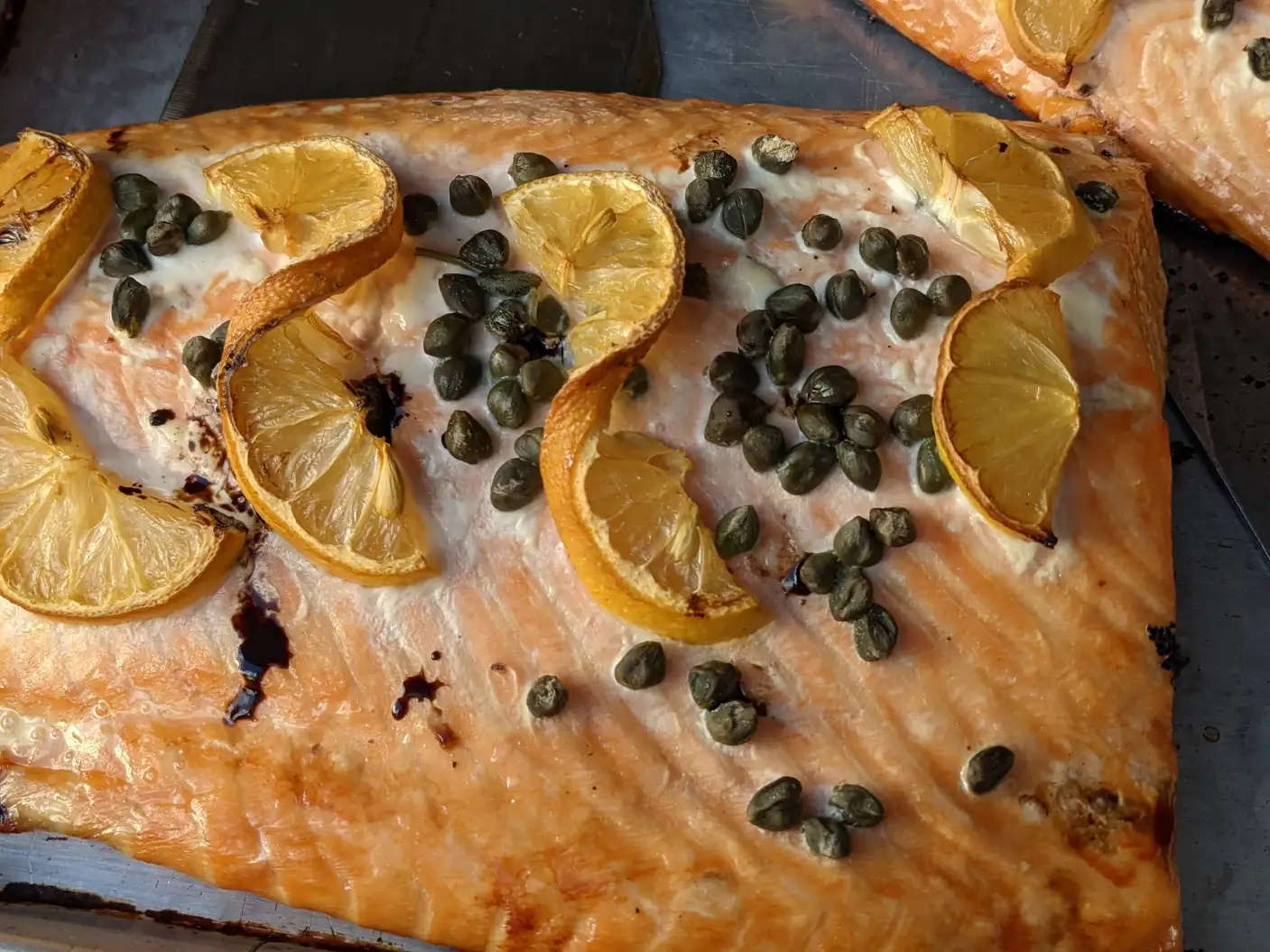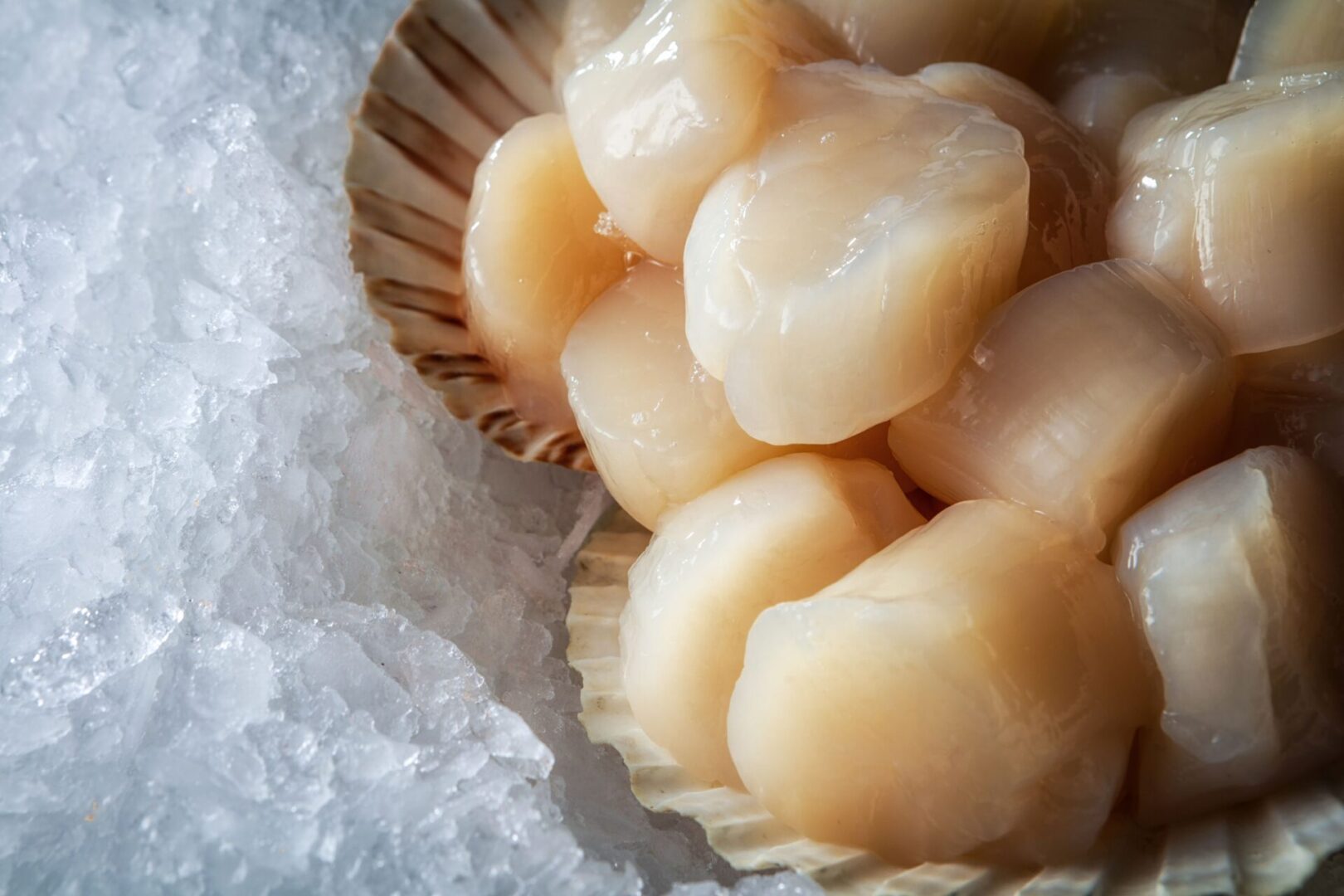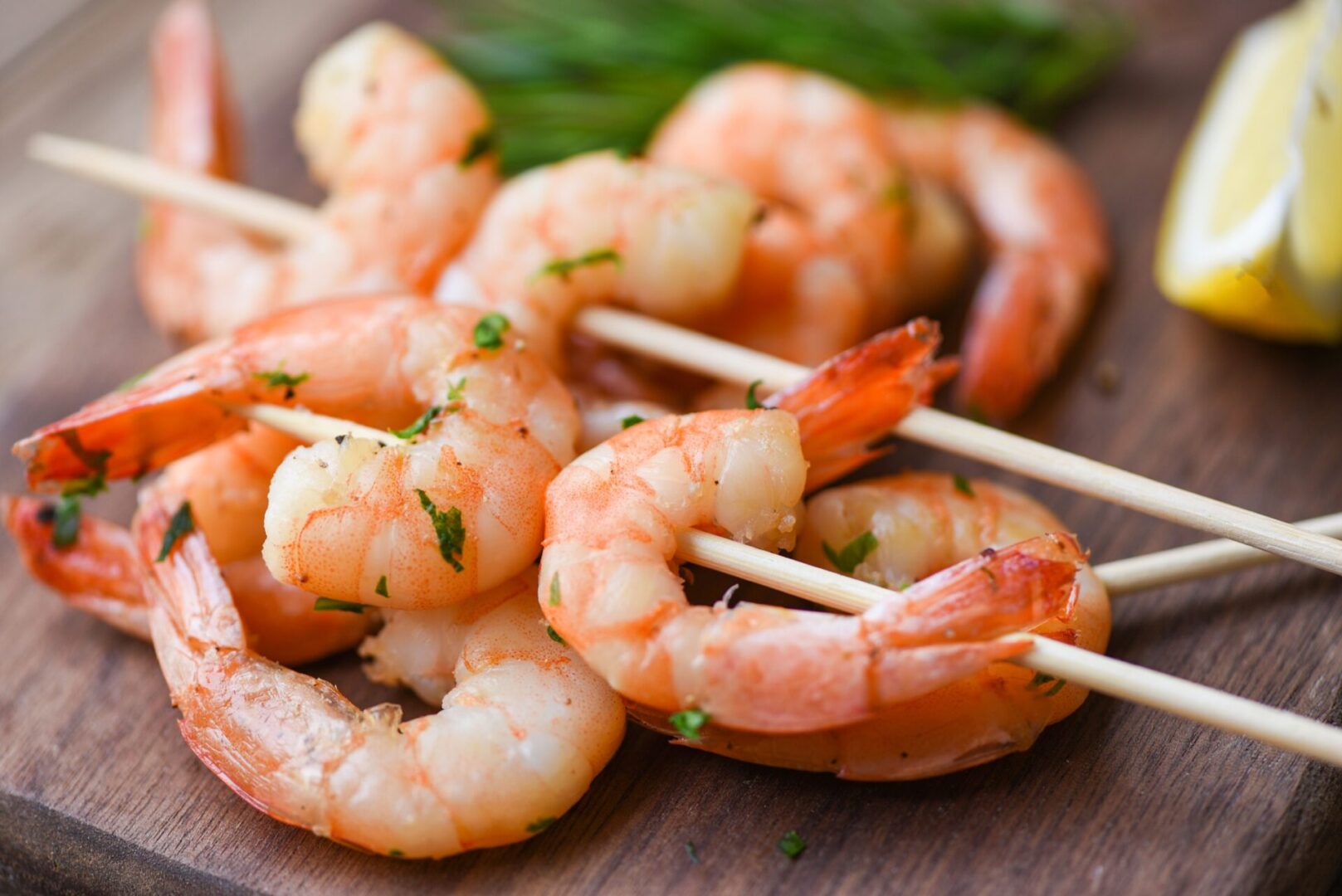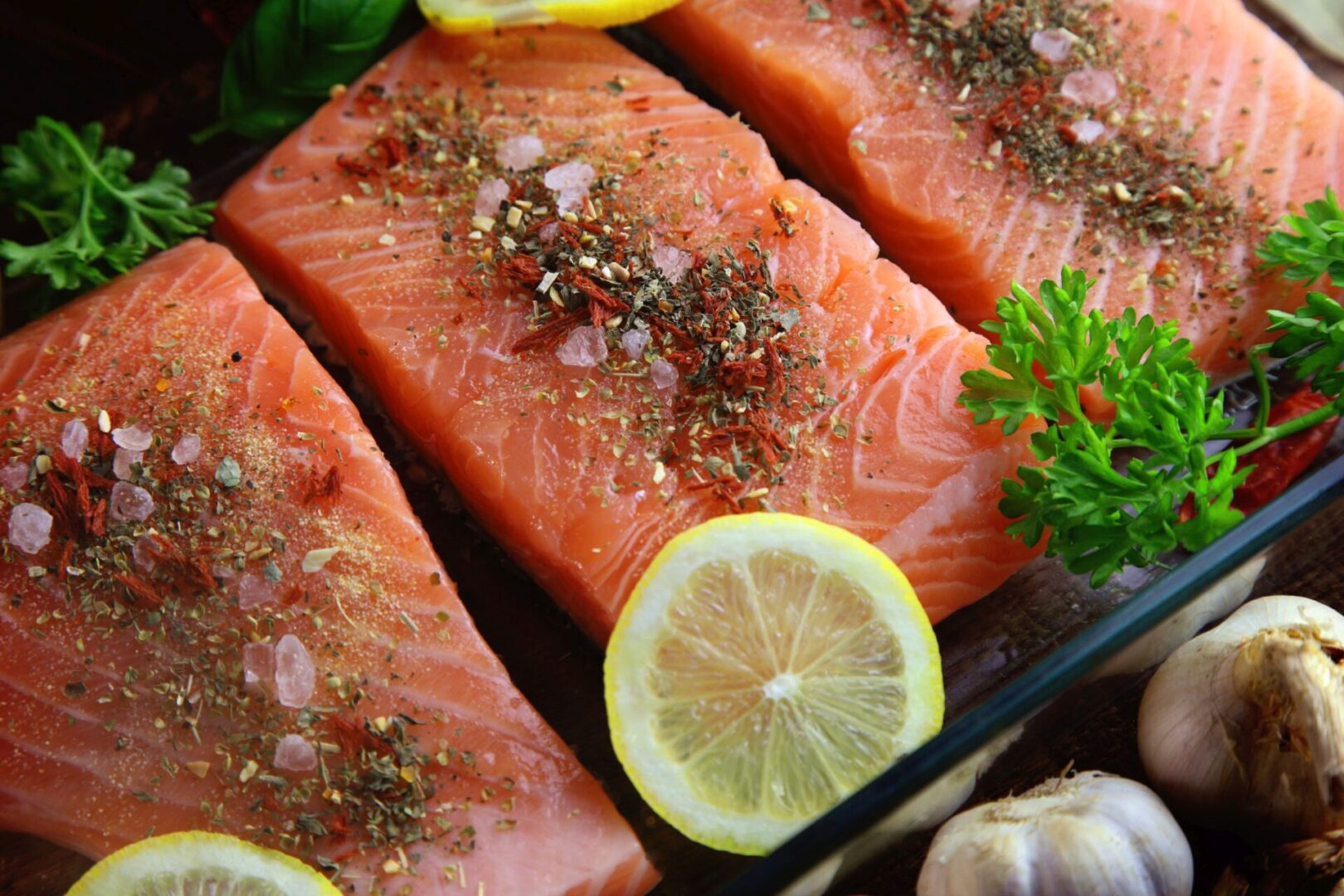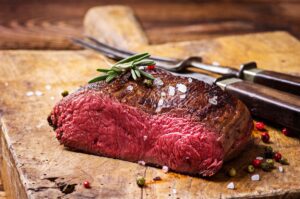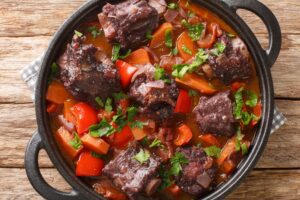 Wild Game and Specialty Meats:
We offer specialty and hard to find meats.
Rabbit, Venison, Elk, Ostrich, Oxtails, Duck, Goose, Sweetbreads, Organ Meats, and Duck Fat

If you have special requests, please call us to inquire availability.